Whether it be due to injury, their country not qualifying or just simply not being picked, Euro 2020 will be without a lot of big names.
The likes of Jan Oblak, Erling Haaland and Miralem Pjanic were all part of unsuccessful qualification campaigns but this list covers only those that failed to make it into their respective squads.
Some are more talked about than others, some are more controversial than others, so let's get into it…
Ricardo Pereira- Portugal
Starting the list with the defending champions and although it has been five years since their success in France, a fair few members of that squad remain in the picture.
Ricardo Pereira was on loan at Nice from Porto at the time and failed to make the cut then, the same can be said for this time around despite the fact he's a huge player for FA Cup winners Leicester.
Like a lot of Brendan Rodgers' men, Pereira has had to deal with a sustained injury which may have been in the mind of Fernando Santos when he selected the Portuguese squad.
Joao Cancelo of Man City being chosen ahead of him is understandable given his stellar season but Pereira will certainly feel hard done-by that Wolves and former Barcelona fullback Nelson Semedo beat him to a Euro 2020 spot.
Ferland Mendy- France
From the right-hand side of defence to the opposite flank and Real Madrid's Ferland Mendy is one of the many, many players to fall victim to the outrageous depth that France boast.
The big names that won't feature in Deschamps' immediate plans are heavily trodden ground; in the defensive third you have Dayot Upamecano, Wesley Fofana and Ibrahim Konate who will all be watching from home and the same goes for Houssem Aouar and Moussa Diaby further up the field.
Back to the man in question though and over the last few years, Los Blancos have searched for a replacement for Marcelo but to no avail.
That is until now, Marcelo has still featured of course but Mendy is the man in charge going forward, making his exclusion all the more surprising.
His opposition is particularly fierce though, Benjamin Mendy being omitted from the Euro 2020 line-up is no surprise when he is up against his namesake as well as the pair that will be playing, Everton's Lucas Digne and Bayern's Lucas Hernandez.
The latter can play either as a centre-back or a left-back and has interestingly made the cut at the expense of his brother Theo as well as Ferland Mendy.
It is not a bad problem to have that is for sure!
Tanguy Ndombele- France
Remaining with the World Cup holders and as previously mentioned, there is a plethora of elite talent absent from the Euro 2020 squad that would make most other nations instantly better.
The midfielder that was named previously was Lyon's Houssem Aouar and whilst the fact that any country can leave a player of that calibre at home is baffling, Aouar playing for the unsuccessful U21s, it's a former club teammate of his next, Tanguy Ndombele.
Looking in the midfield you see Adrien Rabiot who hasn't really offered a whole lot at Juve this year, Corentin Tolisso who has battled with injuries and even when fit hasn't been a regular fixture in the Bayern side and then finally Spurs' Moussa Sissoko, a highly-criticised player but he's made the cut all the same.
The trio all have more international experience than Tanguy Ndombele and although he hasn't been able to establish himself in this unstable and ever-changing Tottenham set-up, his ability on and off of the ball make him one of the most enjoyable players to watch in Europe.
He is yet to quite reach the heady heights of Lyon but he, like Nabil Fekir and potentially Memphis this summer with many others have looked for a next challenge and Deschamps leaving him out is a questionable decision.
Sergio Ramos- Spain
That Spain side who won three consecutive major tournaments from 2008 to 2012 truly was something special, they did what no other country has ever really done and dominated the international scene.
The men at the fore of this include Iniesta, Xavi, Busquets, Pique and that is just from the Barcelona camp, meanwhile Sergio Ramos was of course involved heavily.
The penalty-taking panenka-lover has been integral to every bit of success captured by his club and country but former Barca coach Luis Enrique has disregarded that completely, not only taking less than the 26 players allowed but excluding Ramos.
This is the first time ever that La Roja will go to a major tournament without a Real Madrid player, Ramos missing out of Euro 2020 contention along with the injured Dani Carvajal- the other notable absentees from Enrique's squad are Iago Aspas, Sergio Canales and Jesus Navas.
Will Enrique's huge decision pay off?
Ansu Fati- Spain
Ramos isn't the only big name to be missing out from Euro 2020 for the Spaniards but a star from the other side of El Clasico is excluded for different reasons.
Ansu Fati is still very early on in his career but the La Masia graduate burst onto the scene and prior to his awful injury, was behind only Messi really when it came to the side's attacking importance.
If Fati had continued on the same trajectory for the rest of the season I find it inconceivable that Luis Enrique would be able to ignore the youngster, even with the likes of Mikel Oyarzabal and Ferran Torres present.
Fati's injury was an upsetting one to watch and there is still no real indication about when he will back in action, hopefully he'll be ready to go for the start of the new season to compete alongside the present players as well as new signings' Memphis Depay and Sergio Aguero.
Marc-Andre Ter Stegen- Germany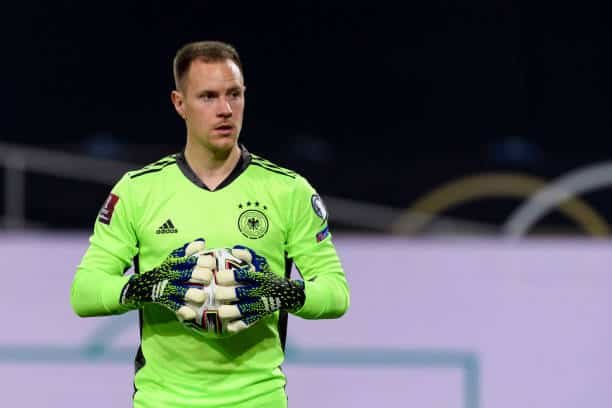 Talking of Barcelona and Fati isn't the only major name whose Euro 2020 dreams have ended before they began, Germany shot-stopper Marc-Andre Ter Stegen's battle with Manuel Neuer for the gloves being defaulted to the latter.
Ter Stegen has long since been one of the finest goalkeepers in the world alongside Neuer, Jan Oblak and the two Brazilians in the Premier League but even when Bayern Munich's number one has experienced significant dips in form, Joachim Low hasn't used that as a chance to give the Barca man a chance on the international stage.
Talking of Oblak and he along with Inter's Samir Handanovic will also be absent from the tournament but that is due to Slovenia failing to qualify- an interesting point arises that the six aforementioned keepers are from just three different countries.
Whilst some nations are struggling to lock down a top-class keeper ahead of Euro 2020, Germany for example have two of the best, sadly though Ter Stegen won't be in attendance, Arsenal's Bernd Leno and Frankfurt's Kevin Trapp benefitting from this.
Zlatan Ibrahimovic- Sweden
From the current Barcelona crop to a former Blaugrana hero as Sweden will go into Euro 2020 without one of their biggest ever names Zlatan Ibrahimovic.
Not many would have expected the goalscoring form he brought back to Europe after a spell with LA Galaxy but before Christmas it was his goals that were integral to keeping Milan in the title race.
It was an up and down season for Pioli's men and any success they enjoyed was overshadowed by that of their noisy neighbours and the big Swede has been sidelined for prolonged period of times due to injury.
It was announced that due to his high level of performance in Milan that Ibrahimovic would come out of international retirement, this occurring to no avail as due to injury he has been ruled out of the competition.
His replacement is a dark horse for Golden Boot in my estimations though; Alexander Isak of Real Sociedad has had a superb season and if the likes of Emil Forsberg and Juve's Kulusevski can be creative sparks, the Swede's might have another star-striker on their hands!
Virgil Van Dijk- Netherlands
Penultimately then to the biggest Premier League player that will be absent from Euro 2020 and it's Liverpool's dominant defender Virgil Van Dijk.
It has been an indifferent year for the Merseyside men as, after a treacherous season, a strong finish saw them still finish in the top four.
The arguments rage on about his importance to his club side after that horror tackle from Jordan Pickford and the comparisons to the greats of this league, John Terry, Rio Ferdinand etc.
He is said to be nearing a recovery but Van Dijk himself made the decision to not join up with the Dutch squad, prioritising getting fully fit for the start of the next season.
There is a lot of pressure on the shoulders of Frank De Boer who has a weak track record and they will be without their main man, De Vrij of Inter and Juve's De Ligt being perfectly capable as a caveat.
Trent Alexander-Arnold- England
One player accredited for the defending champions impressive conclusion to the Premier League season is Trent Alexander-Arnold, the majority of onlookers labelling the fullback as their best player since the turn of the year.
Despite this though there were large debates about whether or not he would feature in Gareth Southgate's plans, he was dropped from the squad earlier this year due to a combination of poor form and a high level of competitiveness in his position.
That was all drama that amounted to nothing though as he featured in the final Euro 2020 squad along with Trippier, Reece James and Kyle Walker only to then get injured against Austria earlier this week, the Liverpool man having to be withdrawn because of it.
Stick with us here at WD Sportz throughout Euro 2020 for the latest news and much more!