The Premier League since its inception proudly boasts the best in class of players and managers. Football at its finest seems to be what the aim always has been, and with the money that is invested into the league, it's been within reach.
However, with the money so often being spent securing these players, how many have been a success story, and how many have been far from it? Join us as we rank the ten most expensive Premier League signings of all time. (5/10 will be seen as an average score, and we will be rating their whole time at the club, in all competitions.)
*Will be using TransferMarkt for all prices as they are the most reliable source.
** Kai Havertz and Ruben Dias are not on this list despite ranking 5th and 10th most expensive, due to only being in the league for a few months. They have been replaced by the next two most expensive buys.
1. Paul Pogba – £95.4 Million Pounds. 6/10
Pogba has been a constant figure of controversy since his fabled return to Old Trafford. Walking through the door, smashing the British transfer record and the star signing of the new Jose Mourinho era. Big things were expected, and in some ways, big things have been delivered, but in many others, he has never brought about the new era that was expected.
His accomplishments shouldn't be ignored. The star player of United's faux treble-winning season (Europa League, League Cup, Community Shield) in 16/17. He was top goalscorer that year, and since then there have been moments of brilliance, memories made. But has he really ever pushed the team on?
Controversy follows Pogba, much of it unfair. The family man he is, ignored in favour of transfer rumours, and haircut criticism. On the other hand, it has to be said some of United's best moments since his arrival happened in vain of Pogba. The displays of last season happened almost exclusively without him, the same story was told on that night in Paris where Pogba missed it due to suspension.
In brilliant recent form, he still has shown at times he is amongst the world's best.
2. Harry Maguire – 78.3 Million Pounds. 7/10
A year and a half into his tenure as a Manchester United player, and a year into his stint as club captain Maguire has been a qualified success based on stats. The way his team has improved defensively since his arrival was impressive. Conceding just thirty-six goals in the league last season, it seemed he, alongside fellow signing Wan-Bissaka, had steadied the ship.
Maguire last year ranked first in the Premier League for most interceptions, and progressive carrying distance in the league (aka ball-carrying when moving towards the opponent's goal). In his role as a ball-playing centre-back, he's excelling but is it possible these stats are hiding other flaws.
United have conceded considerably more goals per game this season, he has still not fixed their issues at set-pieces. Alongside this, United have failed to establish a set partner for him, with Bailly, Tuanzebe and Lindelof all rotated. This inability to find someone to cover Maguire's weaknesses remains a concern.
The main takeaway is despite his huge transfer fee, the world's most expensive defender is not the final piece, but maybe one of the first in United's defensive jigsaw.
3. Romelu Lukaku – 76.2 Million Pounds. 5/10
Rounding out the top three, is our third Manchester United player (it won't be the last), Romelu Lukaku. Lukaku is something of a tricky player to rate, he is the fifth-youngest player to hit one hundred goals in the Premier League. But he never really gelled at United, lasting just two seasons at the club.
Despite being the club's top scorer in his first season, it was hardly a year to shout about. Scoring sixteen goals in the league, he was well off the pace of the two top scorers that year Mo Salah and Harry Kane (32 and 30 respectively). His two years at United also welcomed nothing in the way of silverware, whilst the blame can't just be on him, ultimately strikers win games.
Perhaps a tad unlucky in that he maybe arrived a season too late, he only had one year with the manager who signed him Jose Mourinho before his trademark third-year fall from grace started.
Lukaku never saw eye-to-eye with his successor Ole Gunnar Solskajer either, and would find himself a regular on the bench before his time at The Theatre of Dreams would come to an end.
Shipped off to Inter at the start of the 2019/20 season, Lukaku would have received a harsher rating if not for United recouping much of his transfer fee.
4. Virgil Van Dijk – 76.1 Million Pounds. 10/10
Virgil van Dijk came to Liverpool and changed the dynamic, it's as simple as that. Jamie Carragher once said it is never as bad as it seems when looking at a squad, and one or two key signings and suddenly you have the world at your feet. Whilst that may be slightly romanticised Virgil Van Dijk was part of that one or two signings (With Allison who followed), who turned contenders into champions.
Liverpool had the attack, but when Van Dijk came through the Anfield doors the ball was set rolling, and titles would be only a matter of time. His first season they fell just short in Champions League glory, something they would make up for the next year tasting European glory for the first time in over ten years. In the same season, they were unlucky for their ninety-six points to not be enough to lift the Premier League.
However, it was just a matter of time before they would lift their first Premier League title. In the 2019/20 season, Liverpool would do just that, ninety-nine points and just thirty-three goals conceded. So much of this success falls at Van Dijk's feet, not the captain but clearly one of the leaders.
PFA Player of the season, three-time UEFA team of the year entrant, second-placed in last years Balon D'or. The individual accomplishments speak for themselves, and the way Liverpool have struggled without him since his injury is clear for all. He has arguably been a perfect signing.
5. Nicolas Pepe – 72 Million Pounds – 4/10
A year and a half into his tenure at Arsenal Nicolas Pepe sits with just fourteen goal contributions in forty-five games in the Premier League. Coming to the league with expectations high after finding himself in the Ligue 1 team of the year in his last season. Pepe hasn't reached the level expected, in fact in his last season in France he managed more assists than he has in his time in London.
Despite his slight upturn in form this year, he has lost his starting role in the side. With less than half of his fourteen league appearances being amongst the starting eleven. With the way youth prospect, Buakayo Saka has impressed, and Willian starting regularly Pepe has been shunted to little more than a squad player.
There will be hope Pepe can keep his upwards trajectory of late in the Arsenal camp. Not just because they will be paying off this transfer fee for the next three years.
6. Kepa – 72 Million Pounds. 2/10
Kepa's stint at Chelsea has been nothing short of calamitous ever since his arrival.
A panic buy from the start, Chelsea tried to keep hold of Thibaut Courtois, and then rushed his replacement. Chelsea were held to ransom by Athletic Bilbao being forced to pay his full seventy-two million pound release clause.
Whereas his predecessor Courtois was irreplaceable, Kepa has been dropped for countless cup games and now is even second choice in the Prem since Edouard Mendy's arrival this summer.
When he has played this season in the league he has made an error leading to a goal in every game he's played.
His only slight redeeming factor was his first season. He was the starting keeper as Chelsea picked up the Europa League. Despite, not matching Courtois it looked a decent first season to build on. Since then he's been a disaster, one that has cost goals and trophies.
Also, his whole debacle in the EFL Cup final when he refused to be subbed off, despite manager Maurizio Sarri told him to do so was embarrassing.
7. Kevin De Bruyne – 68.4 Million Pounds. 10/10
The second ten out of ten and again a thoroughly deserved one. Since his return to the Premier League, De Bruyne has a serious case for being the best player in the league in that time period.
Averaging a goal or an assist every 0.66 games, De Bruyne is Manchester City's talisman. He is their three-time player of the year including their centurion year, where he was possibly the best midfielder in the world. His ability is recognised in the league and beyond. A PFA player of the year and he has appeared in UEFA's team of the year on three occasions. These individual accomplishments have come hand-in-hand with eight major honours for Manchester City in De Bruyne's time at the club.
A class act in a class team, De Bruyne has produced performances of such high calibre that he will undoubtedly go down as one of the Premier League's all-time greats. An argument that seems to become easier to make with every passing year.
The only real disappointment of De Bruyne's time has been his regular injury troubles.
8. Angel Di Maria – 67.5 Million Pounds. 3/10
Another player meant to be the start of something great in a post-Sir Alex Ferguson Old Trafford world, Angel Di Maria and Manchester United just never clicked.
A big international buy and a global superstar expected to be in the vein of Eric Cantona, Ruud Van Nistelrooy or Cristiano Ronaldo. Di Maria came to the Theatre of Dreams as a Champions League winner, fresh off a World Cup final, so expectations were understandably high.
What he delivered amounted to very little in the end. Three goals, and ten assists in the Premier League. His one claim to fame was that beautiful scooped goal against Leicester, what is not so fondly remembered is United would lose that game. (That first time Jamie Vardy would score in the Prem ).
Leaving after just one year with zero trophies to his name. Di Maria would later remark "I'm very happy here, that wasn't the case over there", in reference to his current club PSG compared to Man United.
9. Riyad Mahrez – 61 Million Pounds. 6/10
In an ideal world, we could talk about in Mahrez's two and a half years at the Citizens and say he has firmly marked himself an irreplaceable part of Pep Guardiola's team. Perhaps even in an ideal world, he would have shown the same form that he did for Leicester in the 15/16 season.
The reality instead is that Mahrez has never really cemented himself at Manchester City. In his first two whole seasons, he has averaged under sixty minutes a game. Whilst rotation is key it also seems he has struggled to be the first choice for the right-wing. This is backed up even further by the arrival this year of Ferran Torres this summer.
It's not been a bad stint at Manchester City for Mahrez, he clearly is an elite talent and his numbers have been solid at City. However, for sixty plus million pounds more would rightfully be expected. Twenty-three goals in seventy-four games in the Prem, and an inability to secure his right-wing position over Sterling, Bernardo, Ferran Torres and more.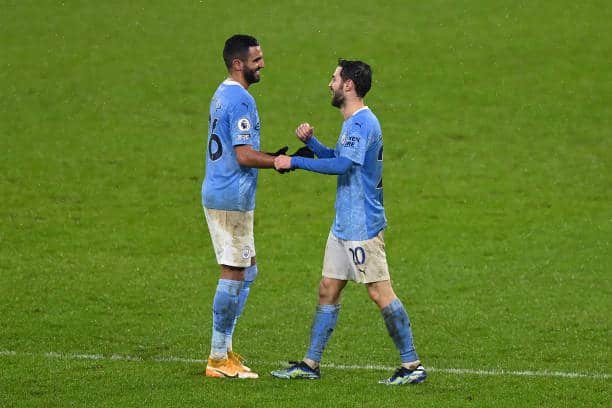 10. Alvaro Morata – 59 Million Pounds. 3/10.
Alvaro Morata's time at Chelsea was doomed from the start. It was publicly known that he was their second choice behind Romelu Lukaku, and much like Lukaku he would only last two seasons at the club he signed for.
His goal to game ratio was fairly appalling at the London club, scoring just twenty-four goals in seventy-two games, far from the standard expected of a leading man. Even more concerning was the thirty big chances he missed in his time at the club.
Morata, a qualified success in both Italy and Spain before he arrived at Chelsea, just never seemed the right fit for the English game. In hindsight, Chelsea fans will be quick to forget him. Other than a couple of goals on the way to FA Cup glory in the 17/18 season, he left little legacy in London.
Like Lukaku, Morata would have received a harsher rating, but Chelsea recouped the full fee.
Who do you think was the best and worst of the signings? Let us know in the comments below.
Enjoyed this article? Let us know in the comments, and take a look at some of our recommended articles. And why not follow our socials? You can Follow, Like and Subscribe to WD Sportz for more football news and updates.