Liverpool forward, Rinsola Babajide, missed several training sessions last week after her transfer request had been denied.
According to the BBC, the England international and Liverpool forward requested a transfer leave in the January window.
Though several clubs were interested in the player, Rinsola was subsequently denied a move.
Rinsola joined Liverpool from Watford Ladies in 2018. Known for her "lightning pace" she made her professional debut with Millwall Lionesses in 2015 before moving to Watford in 2017.
So far this season, Rinsola has scored 6 goals, making her the top goal scorer for Liverpool.
In both November and December 2020, as voted by fans, she was awarded at LFC Women's player of the month.
It is understood the Rinsola was keen to push for international football as well as play in the WSL.
Liverpool FC were relegated at the end of last season and currently sit fourth in the Championship Table.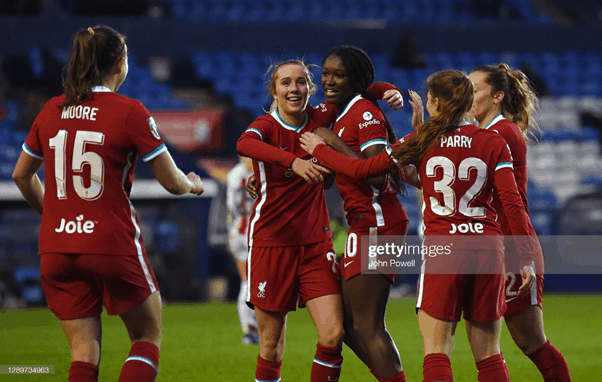 Despite this, she was awarded her first England call up in September 2020, after being voted the Club's 2019/20 player of the season.
She told BBC Sport:
"It was a long time coming. I'm just very grateful for this opportunity. It's all there for me to grab it and make it mine. I'm looking forward to meeting the girls and seeing what I can bring to the team."
The forward signed a two-year contract in June 2020 and is expected to remain at the club till at least the summer.
Feature image: Rinsola Babajide was part of the England Under-20s squad who won bronze at the World Cup in 2018. Credit: Getty Images
Follow, Like and Subscribe to WD Sportz for more football news and updates