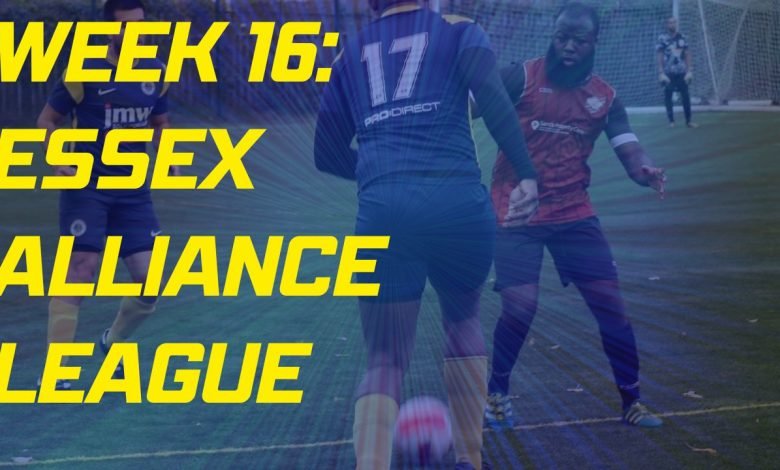 By Ryan Grodent
Senior Division:
Blue Marlin 5 – 3 Kit Out London
FC Baresi 2 – 1 Lymore Gardens
FC Petrocub 1 – 1 Brimsdown
Frenford Development 5 – 2 Oakside
May & Baker EC Reserves 4 – 0 Dagenham United
Rapid London 1 – 3 Jolof Sports
Sporting Hackney 1 – 0 Walthamstow Reserves
Woodford East 6 – 2 Crookz United
Blue Marlin recorded their first win of the season at home against Kit Out London. The home side sit bottom in 17th with the away side in 12th . League leaders FC Baresi secured a narrow victory against 6th placed Lymore Gardens. 7th placed FC Petrocub were held to a draw at home against 3rd place Brimsdown. 8th placed Frenford Development were comfortable victors against 14th placed Oakside. 9th placed May & Baker EC Reserves were victorious against 13th placed Dagenham United. 2nd place Jolof Sports won away from home against Rapid London who sit in 15th. Sporting Hackney were victorious at home against 11th placed Walthamstow Reserves. Sporting Hackney sit in 4th. 5th placed Woodford East were victorious against 16th placed Crookz United.
Premier Division East:
Fairlop Rovers 2 – 0 Barkingside Under 23s
London Park City 2 – 1 Aveley Under 23s
Underscore United 5 – 3 Wapping
Waltham Abbey A 12 – 0 Freetown
Underscore United continued their flawless start to the season against 9th placed Wapping with the hosts sitting top of the table. 11th placed Freetown are still yet to win as they fell to a heavy defeat against 5th placed Waltham Abbey A. 3rd place Fairlop Rovers won at home against 8th placed Barkingside Under 23s. London Park City were victorious at home against Aveley Under 23s. The hosts sit in 7th with the away side in 6th.
Premier Division West:
CSM London 7 – 0 Wanstead
Leyton City 3 – 2 G7
Priory Park Rangers 5 – 1 Athletic Newham Under 23s
Priory Park Rangers moved top of the table with their victory over winless Athletic Newham Under 23s who sit bottom of the league. CSM London secured a comfortable victory against Wanstead. The hosts sit 4th while the away side sit in 7th place. Leyton City secured a narrow victory over G7. The hosts sit in 9th with the away side in 8th.
Division One:
Atholl 2 – 4 Redbridge Community
Eagles Football 0 – 1 Something From Nothing
Newham Wanderers 3 – 2 Ilford Reserves
Old Esthameians 3 – 2 Kwanzas London Sport
League leaders Newham Wanderers were narrowly victorious against 6th placed
Ilford Reserves. 2nd placed Redbridge Community were victorious away from home at 10th placed Atholl. 5th placed Something From Nothing won away from home at 7th placed Eagles Football. 3rd placed Old Esthameians were victorious against winless Kwanzas London Sport who sit in 11th.
Division Two:
Redbridge Community Reserves 2 – 5 Lymore Gardens Reserves
Royal Forest 2 – 4 FC Baresi Under 23s
3rd placed FC Baresi Under 23s were victorious away from home against 4th placed Royal Forest. 8th placed Lymore Gardens Reserves secured a comfortable win away from home against 9th placed Redbridge Community Reserves.
Division Three:
Buckhurst Way 3 – 7 Glendale
Dagenham United Reserves 1 – 2 Frenford A
Football Club of Riverside 2 – 4 Newbury East
Jolof Sports Reserves 3 – 2 Chingford Harriers
Melbourne Sports 2 – 3 Romford Under 21s
League leaders Newbury East were victorious against bottom place Football Club of Riverside who are 11th . Jolof Sports Reserves were victorious in the top of the table clash against Chingford Harriers. The sides sit in 2nd and 3rd respectively. 10th place Glendale secured a comfortable victory against Buckhurst Way who sit in 9th. 4th placed Frenford A secured a narrow victory against 7th placed Dagenham United Reserves. 6th placed Melbourne Sports lost at home to 8th placed Romford Under 21s.
Division Four:
Avondale Rangers 1 – 5 Collier Row Wheels
Flyers Under 23s 3 – 0 Inter London
Old Esthameians Reserves 2 – 0 Newham & Havering Borough
Romford Under 19s 8 – 5 Fairlop Rovers Reserves West Essex Under 23s 1 – 5 Emerson & Upminster Reserves League leaders secured a high scoring victory against 2nd placed Fairlop Rovers Reserves in a top of the table clash. 4th placed Collier Row Wheels secured a comfortable victory against 6th place Avondale Rangers. Flyers Under 23s were victorious against Inter London. The hosts sit in 7th with the away side in 5th. Old Esthameians Reserves won at home against winless Newham & Havering Borough. The hosts sit in 9th with the away side in 11th . Emerson & Upminster Reserves won away from home against West Essex Under 23s. The away side sit in 10th with the hosts in 8th.
With a landslide 12 – 0 victory, Waltham Abbey A are your Essex Alliance League
Team of the Week!
This Weekend's Preview:
Senior Division:
Jolof Sports vs Blue Marlin
Brimsdown vs Rapid London
Crookz United vs Walthamstow Reserves
Frenford Development vs Lymore Gardens
Oakside vs Dagenham United
Sporting Hackney vs FC Baresi
Premier Division (East):
Aveley Under 23s vs Freetown
Barkingside Under 23s vs Chingford Athletic
Cowley Community vs London Park City
RCXI vs Underscore United
Wapping vs Waltham Abbey A
Premier Division (West)
AEK London vs Soul
Athletic Newham Under 23s vs North East Lions
G7 vs London Cranes
Leyton City vs Priory Park Rangers
Wanstead vs CSM London
Division One:
Eagles Football vs Forest Green
Ilford Reserves vs Unitey
Kwanzas London Sport vs Atholl
Old Esthameians vs Newham Wanderers
Redbridge Community vs Something From Nothing
Division Two:
Barking Potters vs Woodford East Reserves
FC Baresi Under 23s vs Chadwell Heath Spartans Reserves
Lymore Gardens Reserves vs Snaresbrook
Old Barkabbeyans vs Redbridge Community Reserves
Royal Forest vs Rainham Phoenix
Division Three:
Buckhurst Way vs Jolof Sports Reserves
Flyers Under 21s vs Melbourne Sports
Frenford A vs Newbury East
Glendale vs Chingford Harriers
Romford Under 21s vs Dagenham United Reserves
Division Four:
Inter London vs Emerson & Upminster Reserves
London APSA Under 23s vs Old Esthameians Reserves
Newham & Havering Borough vs Flyers Under 23s
West Essex Under 23s vs Collier Row Wheels