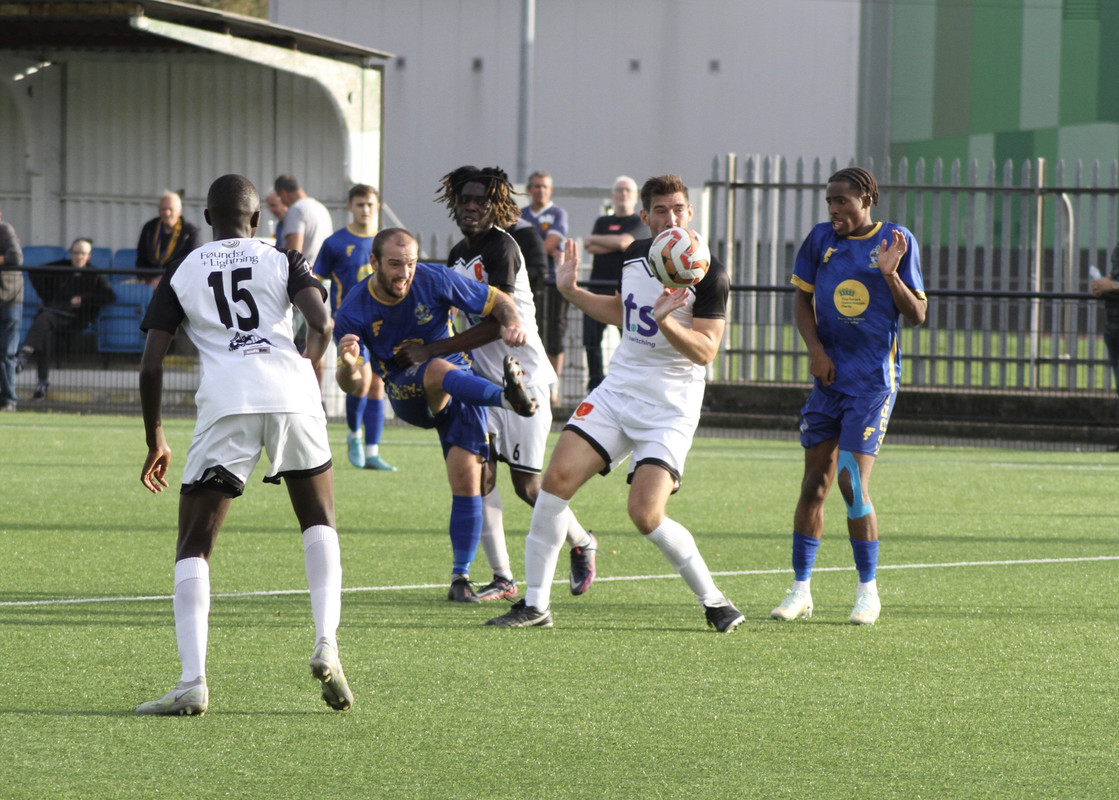 [ad_1]
Kris Newby stepped off the bench to earn Romford a point with a 73rd minute penalty, but then rather blotted his copy book by being sent off in an incident during a contretemps involving players from both teams after the final whistle that also saw West Essex's Mitch Arthur yellow carded.
This was an even game between two evenly matched sides, and while there were chances at both ends, they were mostly other than clear cut. The early stages saw Jesse Olukolu twice have shots at goal, one off target and another deflected for a corner, while West Essex threatened the Boro goal with Tala Lo-Seye going close from a corner and Dillon Woods shooting across the face of goal.
Generally though, Romford failed to impose themselves on a West Essex side who have lost just once away from home in the league, but although the visitors were often the more assured of the two sides, their attacks foundered on a Romford defence that looked a good deal more secure than it has of late.
George Cox became the first of seven players – four from West Essex, three from Boro – booked for a tackle in midfield in the 24th minute that looked hard, but fair, and at this stage it was difficult to imagine either side making a breakthrough.
A free kick on the right floated in by Lewis Smith after 33 minutes was headed on by George Allen, but Camilo Restrepo could not keep his shot down, and after 38 minutes Jake Gordon came close for Boro by creating a chance for himself, only to see his shot crash off the bar. The last minute of the half saw a shot by Emmanuel Robe – who had been well found by Jesse Olukolu – pushed behind for a corner by Arthur Leblond.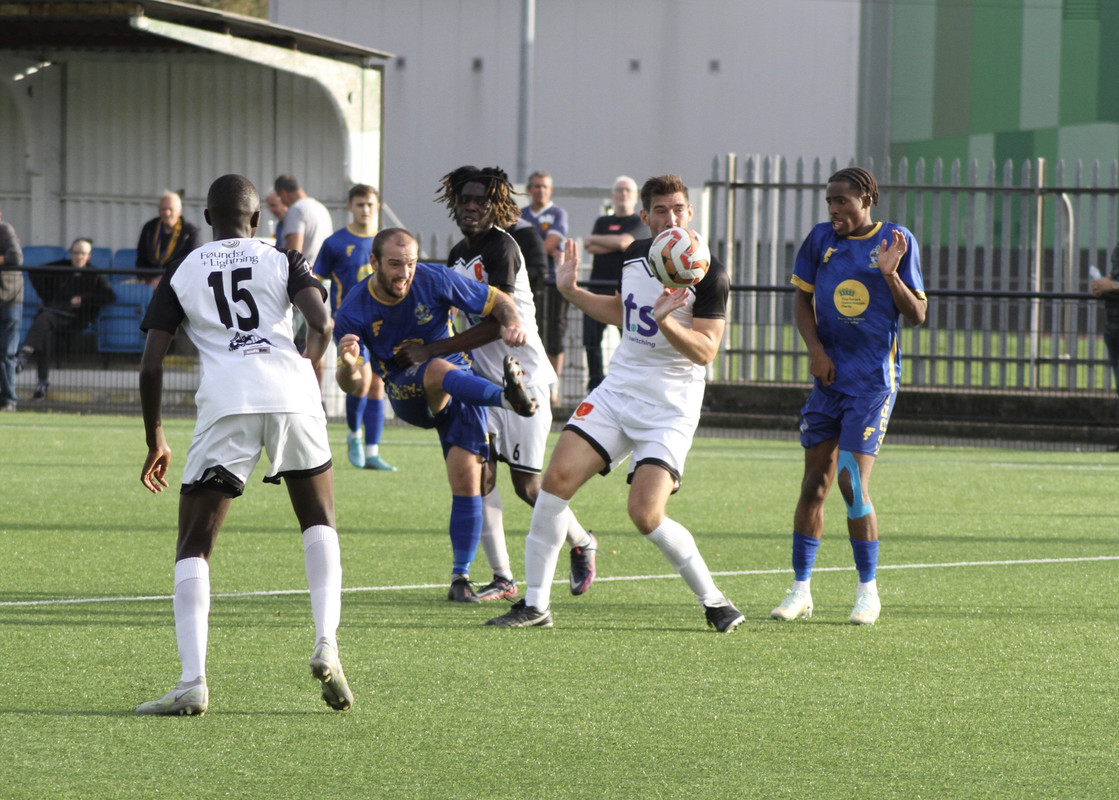 The second half opened with yellow cards for Tala Lo-Seye and Tyler Morgan of West Essex, both for fouls on Jake Gordon, but chances remained scarce. George Cox had a shot easily saved by Leblond after 52 minutes, and then West Essex's Cameron Gray shot straight at Jake Anderson almost immediately afterwards.
Jesse Olukolu was brought down in full flight after 59 minutes, but from the resulting free-kick, West Essex broke quickly and a strong tackle in the Boro penalty had the visitors making loud claims for a penalty that was very much in "seen them given" territory; Boro were perhaps fortunate here. Three minutes later Olukolu shot extravagantly over the crossbar from a poor West Essex defensive header, but after Romford had replaced Camilo Restrepo and Lewis Smith with Martin Tuohy and Kris Newby in the 63rd minute, West Essex went ahead less than 60 seconds later.
The visitors constructed a good move on the right, but Boro had opportunities to clear – which were spurned – and a low cross gave Saliu Lo-Seye the chance to get a shot in that Anderson got a hand to, but could not keep out. A moment later, West Essex had a chance to double their lead when Dillon Woods –booked for a foul on Kris Newby just before – sent a shot over Anderson's crossbar from a ball played across the edge of Boro's penalty area.
With 73 minutes played, Romford won the penalty that drew the level. Jake Anderson's excellent long ball from his own penalty area picked out Emmanuel Robe, and the Boro forward was brought down as he cut in from the left. Kris Newby struck home the spot kick, although Leblond got a hand to the shot.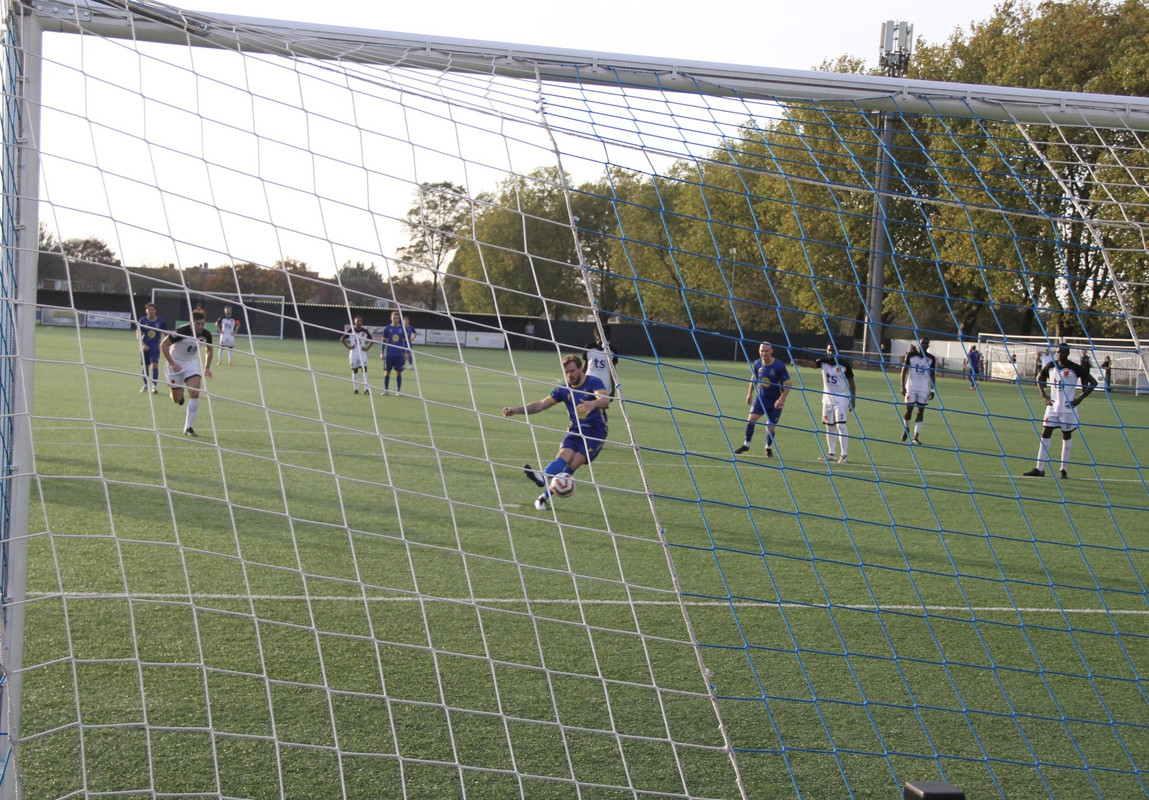 George Cox went close with a flick after good work by Martin Tuohy and Jake Gordon, and Gordon had a close range shot kicked away by Leblond, but after Jake Wiggins had been booked for a foul, West Essex went mightily close with Gray's free kick being spectacularly held by Anderson almost at the intersection of post and bar.
Romford then had a glorious chance to go ahead and potentially win the game when Gordon put Olukolu through with only Leblond to beat, and beat him he did, with a shot that crept agonisingly wide of the post after 83 minutes. Emmanuel Robe was booked on 87 minutes for an unnecessary foul, and then volleyed a difficult opportunity over the bar as Boro pressed, unsuccessfully, for a winner.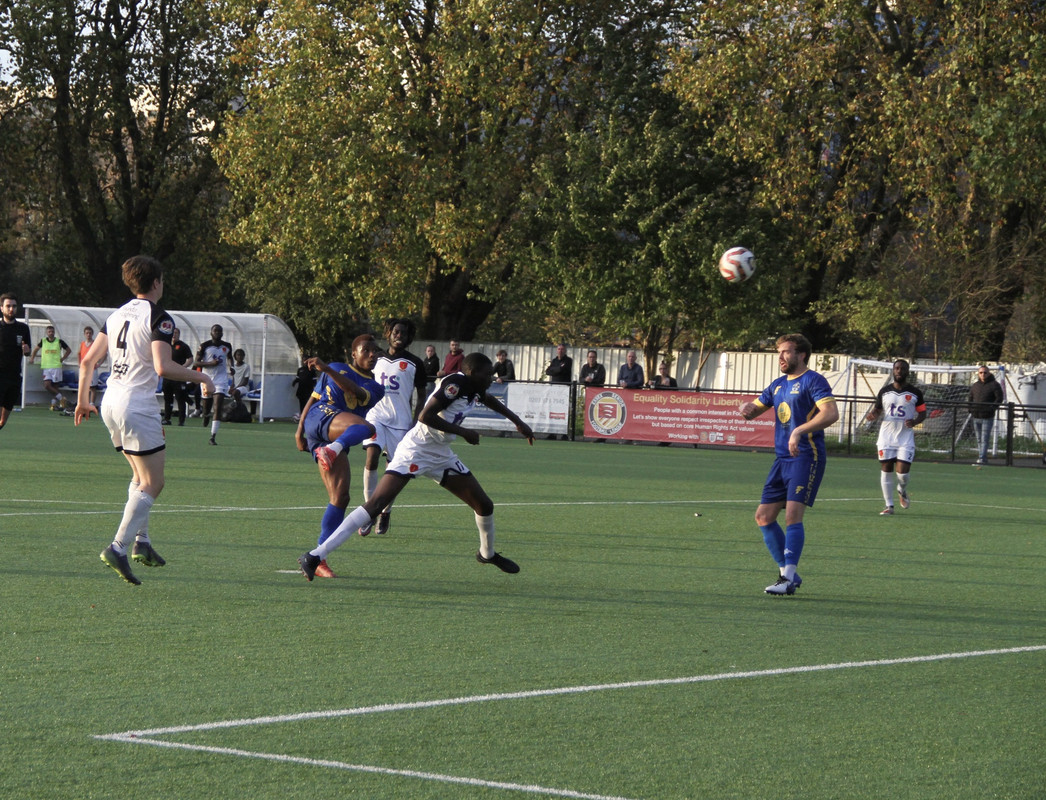 Both sides could successfully make the case for this being two points lost rather than a point won, but West Essex will probably be the more disappointed of them with that outcome.
Romford: Jake Anderson, Tambeson Eyong, Danny Hurford, George Cox, Scott Doe, George Allen (Jacob Wiggins, 75m), Jesse Olukolu, Camilo Restrepo (Kris Newby, 63m), Jake Gordon, Lewis Smith (Martin Tuohy, 63m), Emmanuel Robe. Unused subs: Bleron Ademi, Jake Glenister.
[ad_2]