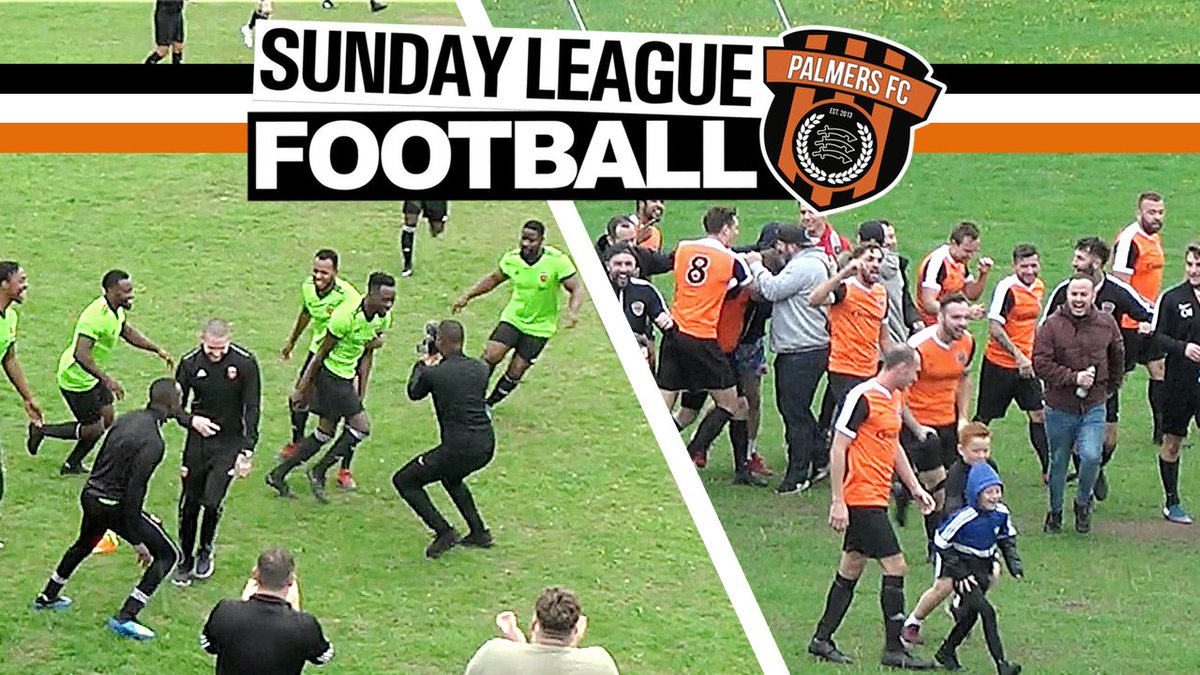 I managed to catch-up with Smiv (the Palmers FC innovator) on all things Palmers, Sunday League football and their future. The future of Sunday League is very bright even though Smiv's time in this area may be up.
Sum up what you guys (Palmers FC) do and how it all started/initial idea?
"To put it simply, we're a Sunday League Football team who film our games and put it out there for others to watch. The idea to film initially came after I sponsored the team with my video production company and felt by putting content out there, it would be a good way of advertising. In turn the videos were more successful than my business which is when I jumped into YouTube as a full time thing."
Could you ever see it getting to where it is now?
"Absolutely not, in fact I questioned why anyone would want to watch a bunch of average Sunday League Footballers that never made it. In turn though, I quickly realised that ability didn't matter and that relatability was what had people watching."
Participation figures for grassroots dropped between 2005-2014 but since then and especially the last few years figures have boomed, do you think you had a part to play in that?
"It's hard to say but 2014-15 was the season we started putting our videos out and the engagement from then until 2017 was some of our highest. That added with the fact lots of other teams have since jumped on the idea of filming their content so there's so many people shouting about Sunday League football now which can only help boost participation figures."
Has it helped communities/fans/people you know in anyway and potentially inspired them?
"Absolutely, we regularly receive emails and messages thanking us for the videos which inspired them to set up their own team or from individual players who fell out of love with the game but got the buzz back."

Is the feedback/messages generally positive or negative, what type of perception?
"The only real negativity we get is it that our ability is poor compared other teams in this space. Ultimately we don't care as we play what's in front of us and are generally successful in doing so."
Would you say you've set the benchmark and created a 'new norm' for Sunday league, if so what is the 'new norm' in your opinion?
"Strangely enough yes. In this digital age we're in it's almost guaranteed that any Sunday league team starting up will have at the very least some form of social media set up to document their progress whether that be a Twitter account, Instagram or the full package with filming and putting content on YouTube.
Do you believe you've set a blueprint for others to follow in Sunday league?
"I believe we did. We're often referred to as the original YouTube side who pathed the way for others to tell their story. That blueprint was certainly taken and adapted to many other channels you see today and it's good to see lots of them being creative about it too by putting their own spin on it rather than just being another team that's filming their games."
How do people compete with the likes of you guys?
"It's hard to give an exact answer otherwise everyone would be doing it. I do feel we had a lot of luck, not only by being the first to consistently do it so naturally all eyes were on us to be able to grow a platform but also what happened within the games itself. We had certain incidents in games that went viral which added to our growth so luck certainly paid a huge part in that. Ultimately though it's that relatability factor which won people over. We didn't try to be something we weren't."
What does the future hold for Sunday league: In terms of personally and overall?
"Personally, our time is almost up I feel. It's a shame we've lost almost 2 seasons of content because of COVID-19 but it can't be helped. The thing people forget is that we started this in our late twenties and 7 years have flown by. We're mid thirties now with other things going on in our lives. Most of us have started family's, careers have taken off and some have moved away."
"When you base your content around a team of friends and those individuals aren't around too much anymore it's probably best to call it a day. I could absolutely use the platform we built to assemble a new set of players but the team was originally set up a season before we started filming as friends and changing that would feel like we're forcing the content rather than doing it out of love."
"As for Sunday League as a whole, it's got a bright future if it continues to be relatable. My concern is that the content that's getting pushed right now contains players of a much much higher standard, ones that pick up a wage on a Saturday as a semi pro."
"Of course this is fine if that is the direction it's going but I feel that if that's the bar that's been set I go back to your average footballer that wants to play for fun. By seeing that high standard on the socials week in week out it could make your average footballers feel a little inadequate and therefore not want to get out there and have a go. Beyond the new 4G pitches, kit deals and thousands of views I do hope there's still room for content that feels more authentic."
What are your future ambitions for Sunday league/Palmers?
"I think we've fulfilled our ambitions already. We started the team as mates and will certainly be ending it as mates. We have memories to look back on as a team and as individuals too."
"The only thing that will sway me to continue is to move on from Sunday League football content and move up to Non-League football and get on the ladder. As I said before, getting a new set of players at Sunday League level doesn't interest me, that was our thing. But to build some form of foundations, a home and potentially an FA cup day with a direct route, no matter how far away it is to the Premier League is certainly one that excites me. That whole process though is massive and I'd need more than just me and a camera to make that happen."
Finally, how would you like to be remembered?
"It all comes back to that word again. Relatable."