[ad_1]

Cray Wanderers vs. Bognor Regis Town, FA Cup 1QR Replay, Wednesday, 7th September, 7.45 pm 
The pre-game thoughts of Neil Smith
Pics:   Jon Hilliger & Ozay Booth
Cray Wanderers and Bognor Regis Town meet for the third time in the early weeks of the season this evening in an FA Cup 1st Qualifying Round Replay for the right to host Hampton & Richmond Borough in a couple of weeks time.  Here Neil Smith looks back on his first FA Cup tie in charge of the Wands and the 2-2 draw at Nyewood Lane on Saturday and a glance back to the Bank Holiday Monday victory against Margate.
Hello Neil.  It went a little bit under the radar but Saturday was your first FA Cup tie in charge of the Wands and we went into the hat for the 2nd Qualifying Round after a 2-2 draw at Bognor Regis Town on Saturday.  Over the game do you think a draw was the right result?
Yes, I think so. Both the games between us have been very close and I think playing a team twice in a short space of time you can cancel each other out. So I tried a different formation to start with just to see how that would go but in the end a draw was a fair result.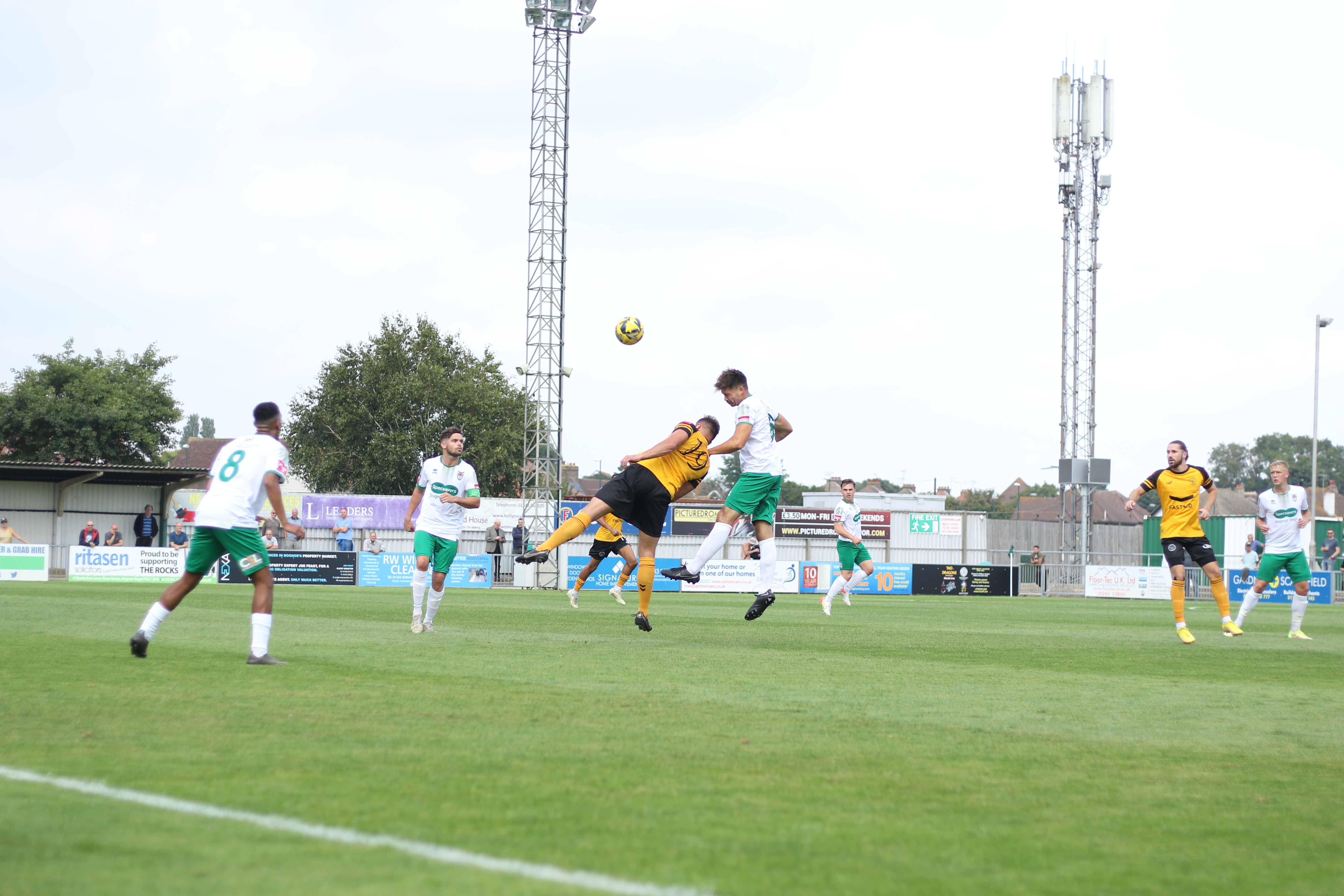 It was great to see Gary Lockyer and Michael Ademiluyi notch their first goals for the club, both well taken and there were some very good performances particularly Dan Bassett who I thought caused them a lot of problems.
At the start I just wanted to try something different so went with Gary Lockyer and Tom Derry up front and to go 1-0 in front after just nine minutes through Gary and had one disallowed shortly after. After that Bognor Regis changed their formation a little bit and we found it more difficult and they scored an equaliser and put us on the back foot.  
Second half, I brought Michael Ademiluyi on and I thought he caused them problems and scored a fine goal which he deserved. Dan Bassett since he walked through the door has been absolutely amazing for me and he had a great game.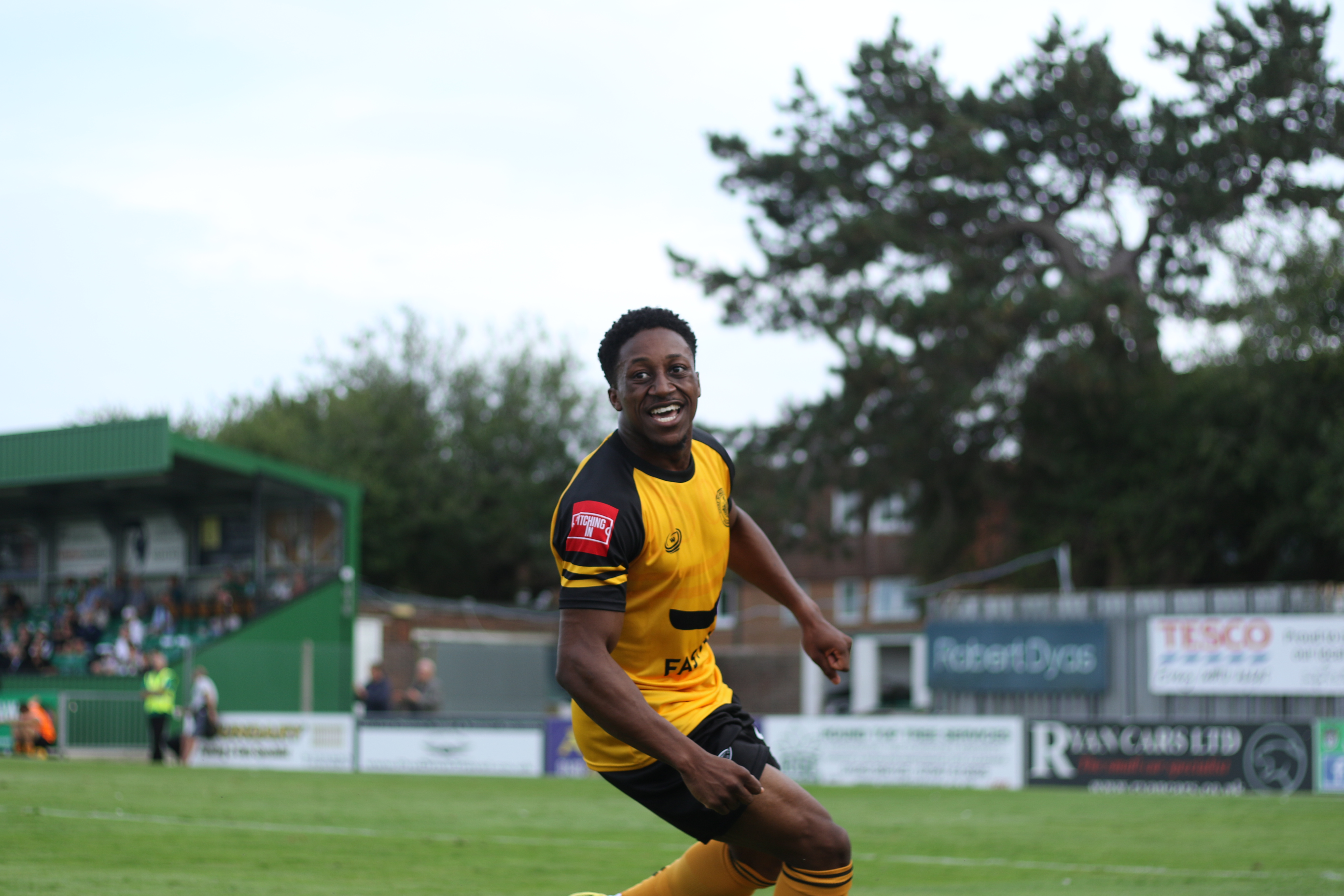 It was just a shame we couldn't hold on to the lead for the second time that little bit longer as I felt we were on top.  I think Nathan Odoknoyero has caused us problems in the two games with three goals and got the leveller on Saturday.
That was exactly what I said, I think it came with a ball down the line and at the far end the ball went out for a throw in and the boys thought it was ours.  Instead of getting on with the game and playing to the whistle they got the throw in and the goal came from there. If we had held on for another ten minutes I think we would have seen the game out as I would have had another substitution to bring on to shore the game up. In the end it wasn't to be, I think Bognor Regis are a good side and they play football the right way and it will be another difficult game on Wednesday.  Odonkonyero has been a real threat over the two matches and they are a young side, enthusiastic and full of energy and as we've seen they don't give up.
Looking at the benches we have two managers with top level playing experience with yourself and Robbie Blake for Bognor.  Did you ever play against Robbie in your playing career?
Yes, I think I did play against Robbie. He was a fantastic pro and a prolific goalscorer in his career and he said some nice things afterwards about us and the way we look to play and likewise they do too.  He is a good guy and it will be a tough game for us and after he plays us I wish him all the best for the season.
There is a great incentive for both teams as well isn't there with a home draw against National South opposition, Hampton & Richmond Borough in the 2nd Qualifying Round.
Yes, I know the Chairman of Hampton & Richmond Borough, Jacques Le Bars very well, his son used to go to the same school as my daughters and Jacques used to come to Bromley games. I know a few of their players too like Alan Jullian who was my old goalkeeper at Bromley so there will be some familiar faces.  If we can get into that next round and it will be a terrific draw for the club but there is still Bognor Regis to get by first before then.
Finally, let's take a look back to Bank Holiday Monday and the 1-0 win against Margate.  Although 1-0 is never a comfortable lead I felt it was quite a complete performance and a deserved win.
Yes, I think perhaps we should have scored another goal. The boys were playing with a comfortable attitude knowing if anything happened they could always step it up a gear.  Me personally I wish we had stepped it up a bit earlier on so I could enjoy the game because with five minutes to go, you never know anything can happen, There could be a ricochet or a rebound or something that can go against you so I would have liked us to score another goal to kill the game off but it was great to get another clean sheet, that's two in two home games which is more than we had last season.  The defenders are doing really well, Sinn'kaye Christie has come in for the Margate and Bognor games and has done superbly. 
From speaking to many of the fans, they are really enjoying the football at the start of the season, we seem to have a bit more stability than last season and that helps tremendously doesn't it.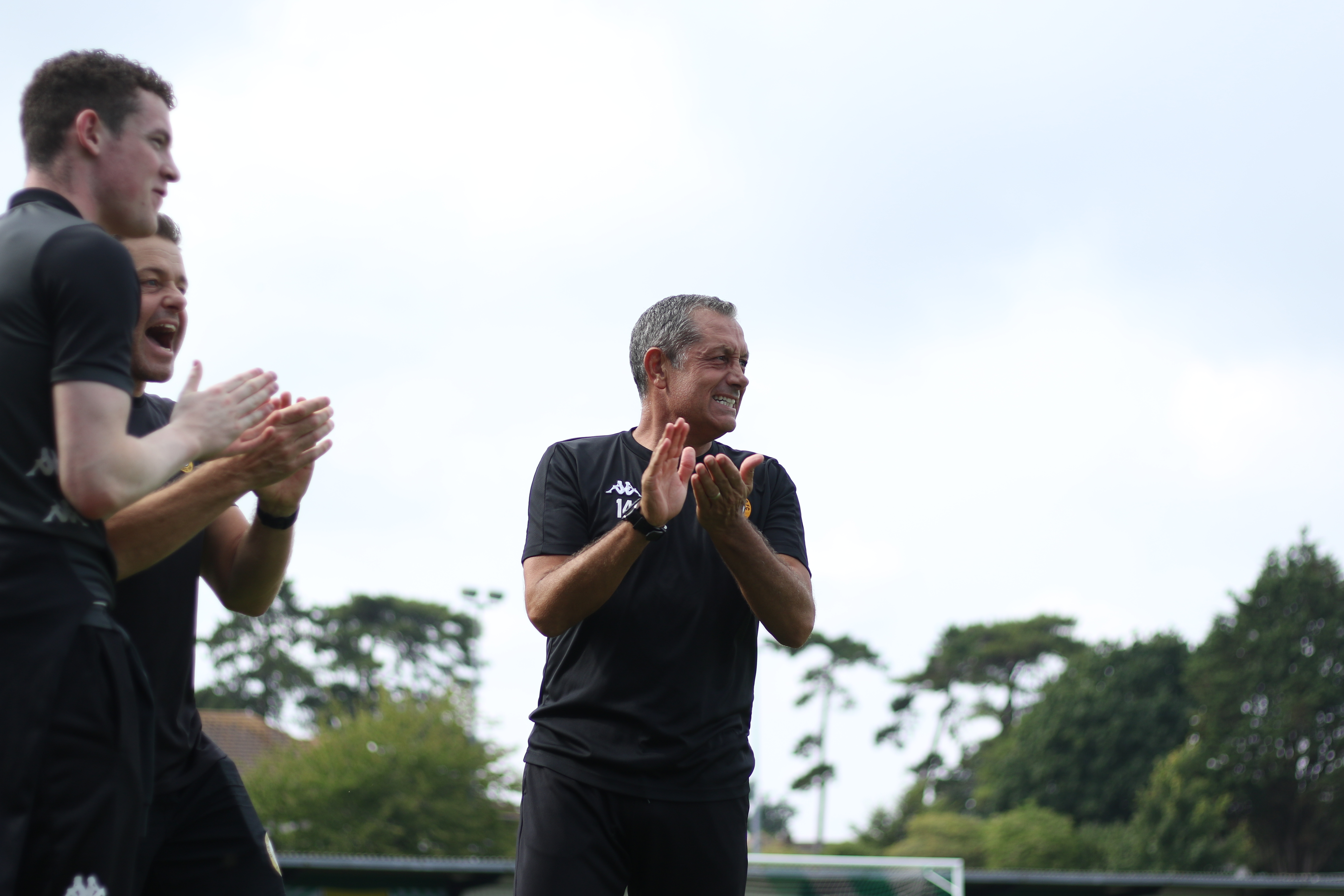 The players have had six games together and are still growing and it's a brand new team. There are a couple from last season like Anthony Cook and Sam Wood but otherwise they are all new and to each other. They will learn along the way and we will see who the characters are but I am really pleased with what they have given me so far and I'm trying to generate an atmosphere where we are all in it together from the supporters, management, owners and players who all want the same thing which is a better season than the last.  We know it is going to be difficult but we are five unbeaten and we want to keep that run going as long as we can.
[ad_2]